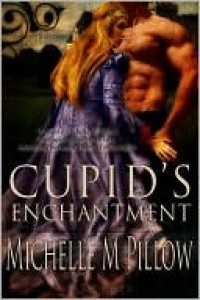 This is a very cute short story.
Cupid is not a cute cherub who wants to spread love. Instead he is a bitter little dirty troll who is rather insecure and spreads curses.
Ilar of the Lycon Guard made a statement that annoyed Cupid and to get even Cupid goes to the mortal realm and selects thge ugliest human he can find. Ironically what Cupid considers hideous the rest of the world considers beautiful. Lady Rhiannon is so beautiful her father locks her in a tower until her sister can be safely wed. One night Rhiannon is bored in her room and the next minute she has been enchanted, covered in mud and being pursued my mythical wolf men. Guess who has to save her.
This is a totally cute story it is rather short about a 100 pages.
If you want to get this one buy the bundle it was 99 cents for three short stories.
.